Adopt A Magical Golden Atlantean Dolphin
In the Golden of Age of Atlantis, dolphins interacted and existed with humankind. I've had numerous regressions and dreams of dolphins in previous lifetimes. Dolphins transported people through water and communicated telepathically. They even used their sonar and echolocation abilities to levitate out of water and move objects.
Golden Dolphin Energy
Because of my love of dolphins, I've been doing intuitive work and researching others' experiences with dolphins, Sirius B and Atlantis. Here's a quick breakdown of what the Golden Dolphin and Dolphin energy is about:
Golden Dolphins work with the energy centers and ley line grids of the planet. They work on activating, clearing and maintaining the solar and galactic energies that affect the energies of the Earth.
Golden Dolphins are etheric and crystalline in nature with the ability to shape shift to our current 3D plane.
Golden Dolphins exude a large extended aura of golden light that can bring uplifted feelings of unconditional love, joy, freedom and healing.
The Golden Dolphins urge us to work with the crystalline energies of the planet. We can do this by working on our self-healing and by working with crystals to raise the Earth's frequencies.
Dolphins have numerous characteristics similar to the human body including brain capacity, intelligence and bone structure. Do some research online and you'll find many amazing facts!
Just like our bodies, the Earth's planetary make-up is mostly water. As Dr. Masaru Emoto has shown us about the energetic and healing properties of water, the dolphins work with the properties of this element. They imprint higher frequencies into the water to directly affect the planetary energies. The different types of dolphins found around the Earth work with their pods to uplift the health of our oceans.
Interestingly, did you know that baby dolphins have tiny golden hair follicles on it's body that help with sensory functions?
Dolphins have a direct connection with Sirius B and can easily transport themselves from our oceans to their home ocean planet via underwater portals.
Most of all, Golden Dolphins and regular dolphins help to raise the vibration of the planet to a higher frequency.
Dolphins lift people's spirits when they are spotted in nature!
Dolphin Treasures for the Soul
This last week offering is special because I have two flashy Golden Dolphin sets for two special people out there! 
These limited edition Golden Dolphin adoption sets include a golden chatoyant Labradorite dolphin and a beautiful Larimar crystal! Larimar is known as the Dolphin Stone with a deep connection to the Golden Age of Atlantis. Labradorite is a crystal to reawaken your inner magic!
In the Age of Atlantis, Golden Dolphins possessed special abilities of higher consciousness and shape shifting. Atlantean dolphins also interacted with humans on a closer level than they do today.
The Larimar crystal has quality marbling and will complement your crystal dolphin's energies. One of the kits I have has a piece with hematite inclusions for added grounding!
Your adoption set will be carefully gift wrapped with a keepsake treasure box and a blue velvet sleeper bag.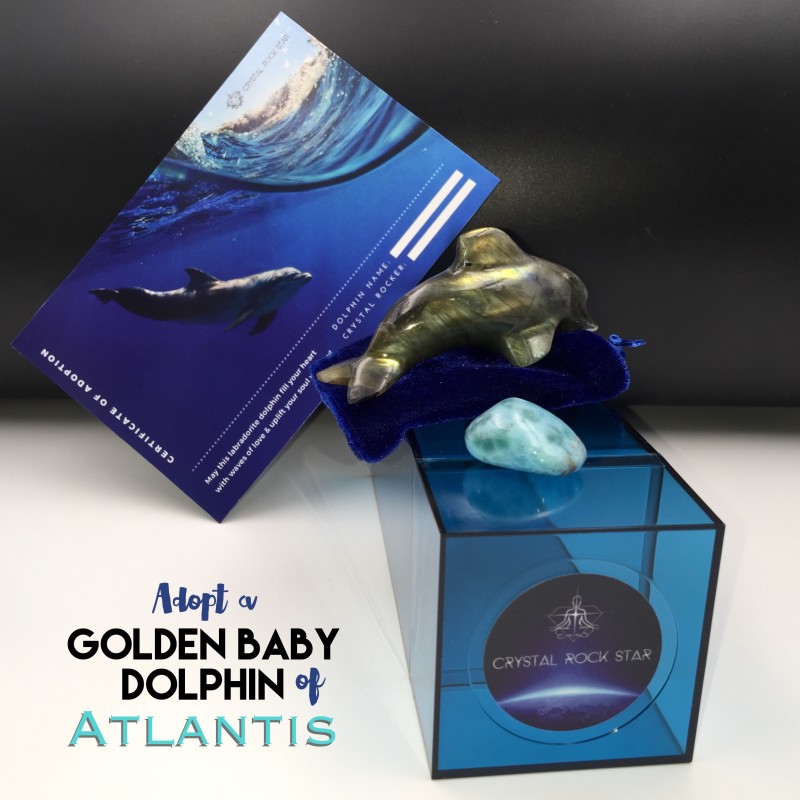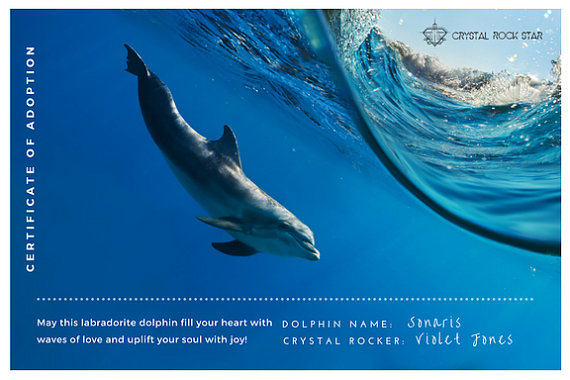 If you have a deep connection to Atlantis, Sirius B and dolphin energy, consider this limited edition set. This set will serve as a daily reminder to shine a little more light into the world. Place your crystals on your desk or sacred space. Makes a great gift for a dolphin lover or someone with water element signs in their natal chart!
---
Click this link to adopt your baby Golden Dolphin today!
If you're interested in regular baby Labradorite dolphins to adopt, I also have those too! These ones have patches of different colored flash instead of a full golden chatoyant sheen. Click here to see this alternate adoption set! They include a mini larimar sphere and baby starfish buddies.
Oceans of Love,

Summary
Author Rating





Brand Name
Product Name
Golden Dolphin of Atlantis - Golden Labradorite Adoption Set
Price
Product Availability